Empower Patients and Clinicians Across the Care Continuum
PEP Health allows organisations to effortlessly implement patient-centric and continuum of care initiatives without additional staffing requirements.
Improve the patient experience and organisational workflows by delivering automated and personalised communications to patients that align with best practice clinical pathways.
Get Started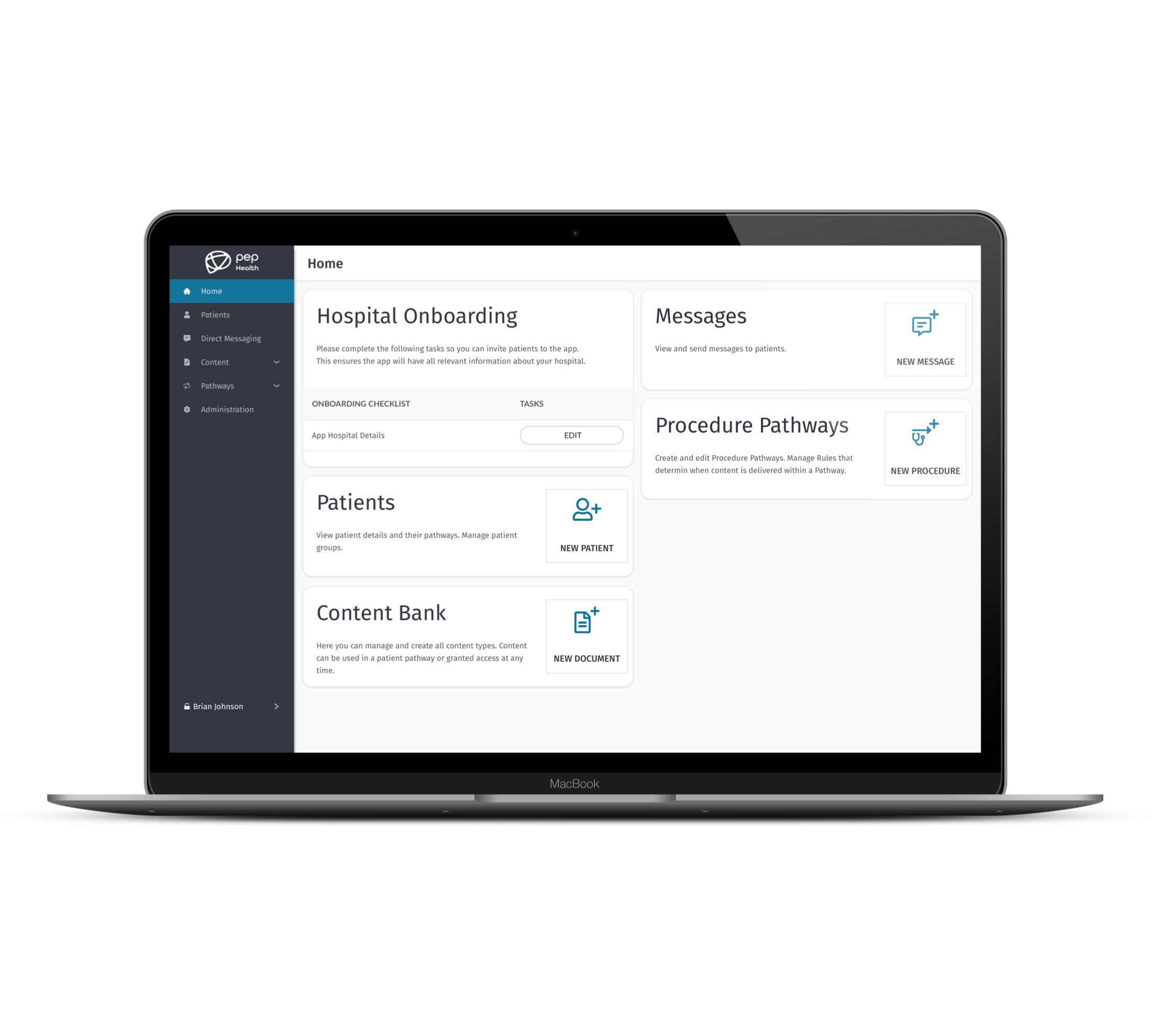 Meet the Future of Patient-Centred Healthcare
Improve the patient experience by delivering personalised communications to patients that align with best practice clinical pathways.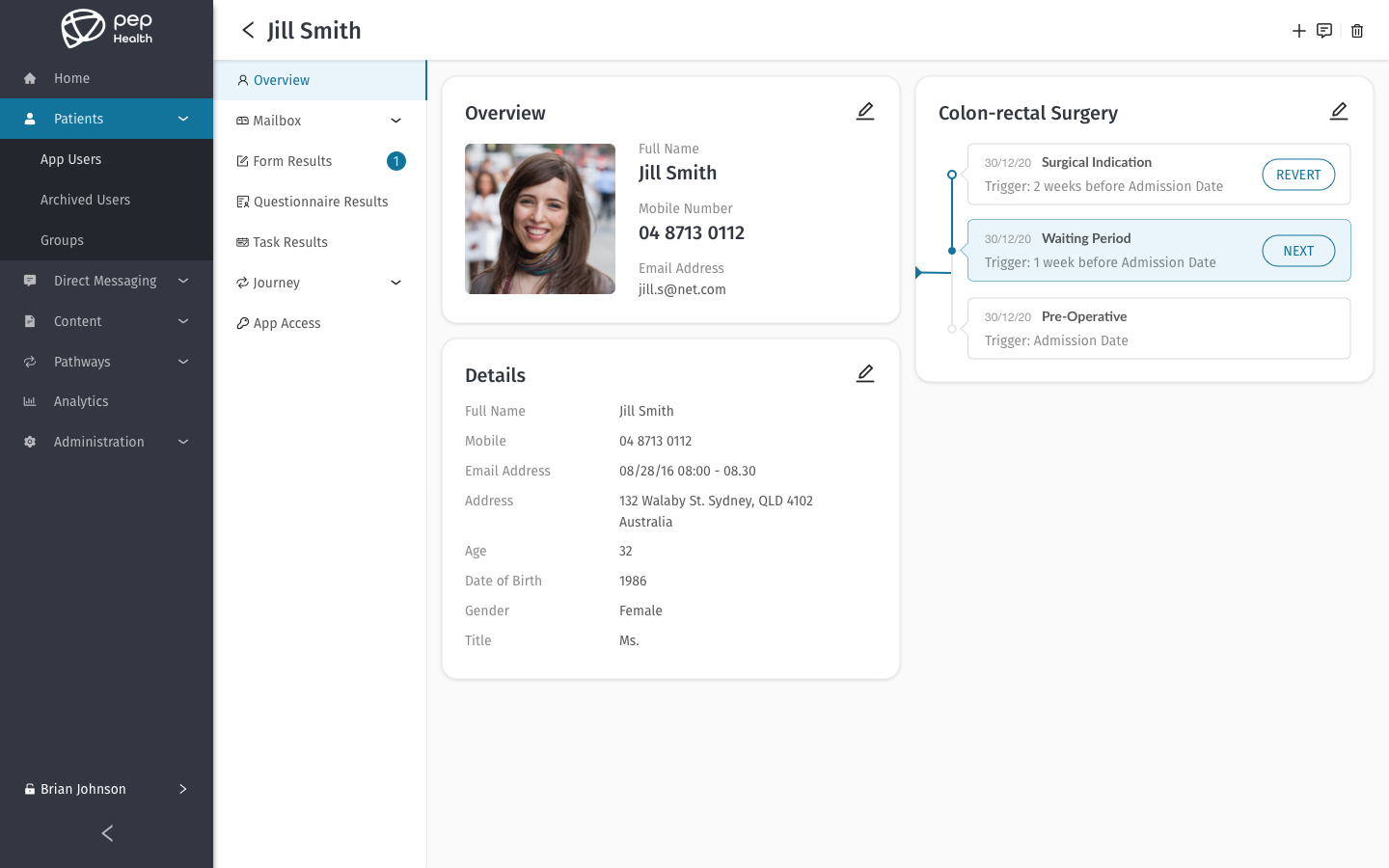 Patient Details
See a holistic view of patient details and triage information.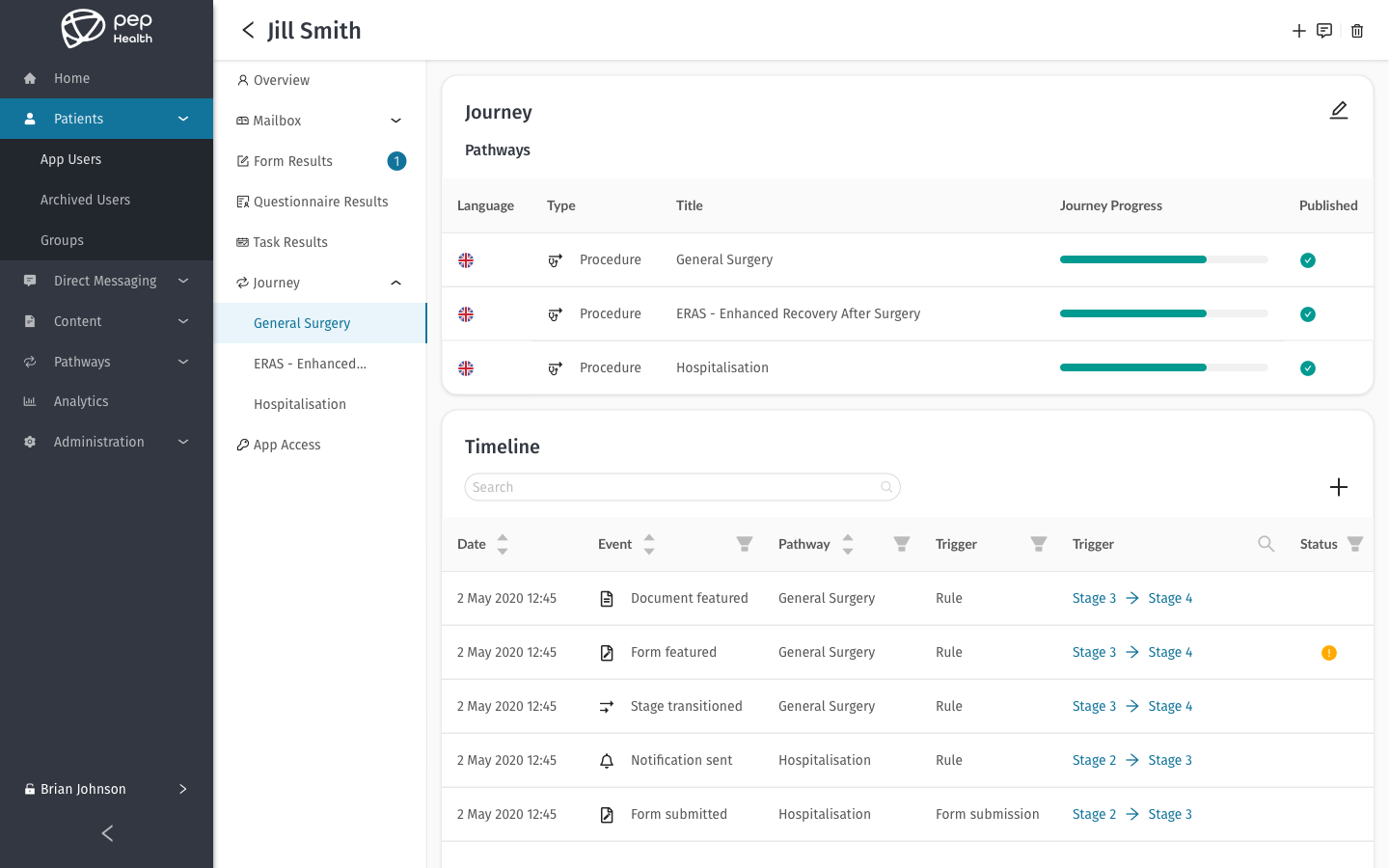 Patient Admin Checklist
Ensure all patients undergo standard administration checks throughout their journey. Address pre-determined flags of at-risk patients.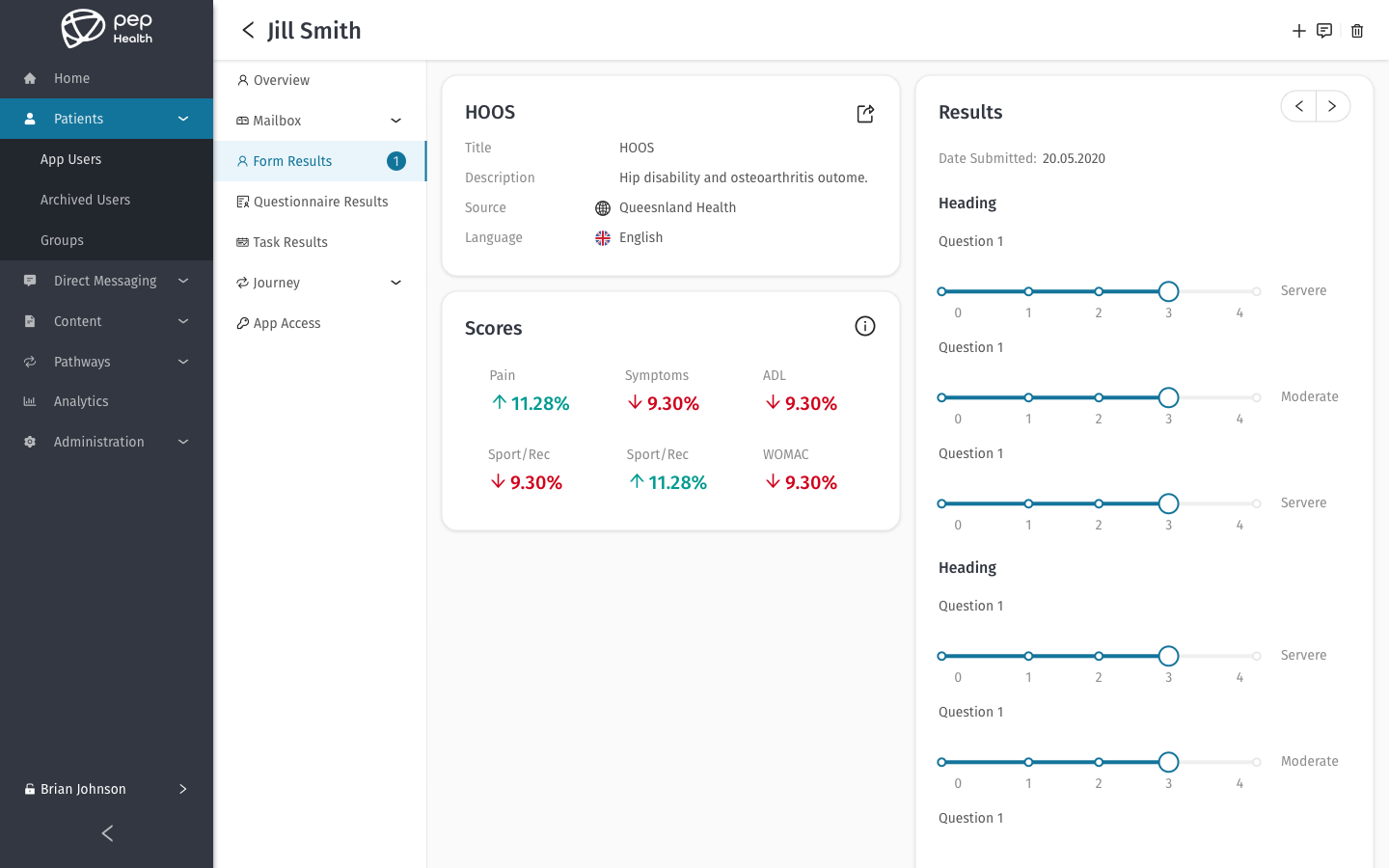 Patient Results
Track patient progress from a range of patient generated health data sources and create notes. View results collected from PROM's and PREM's.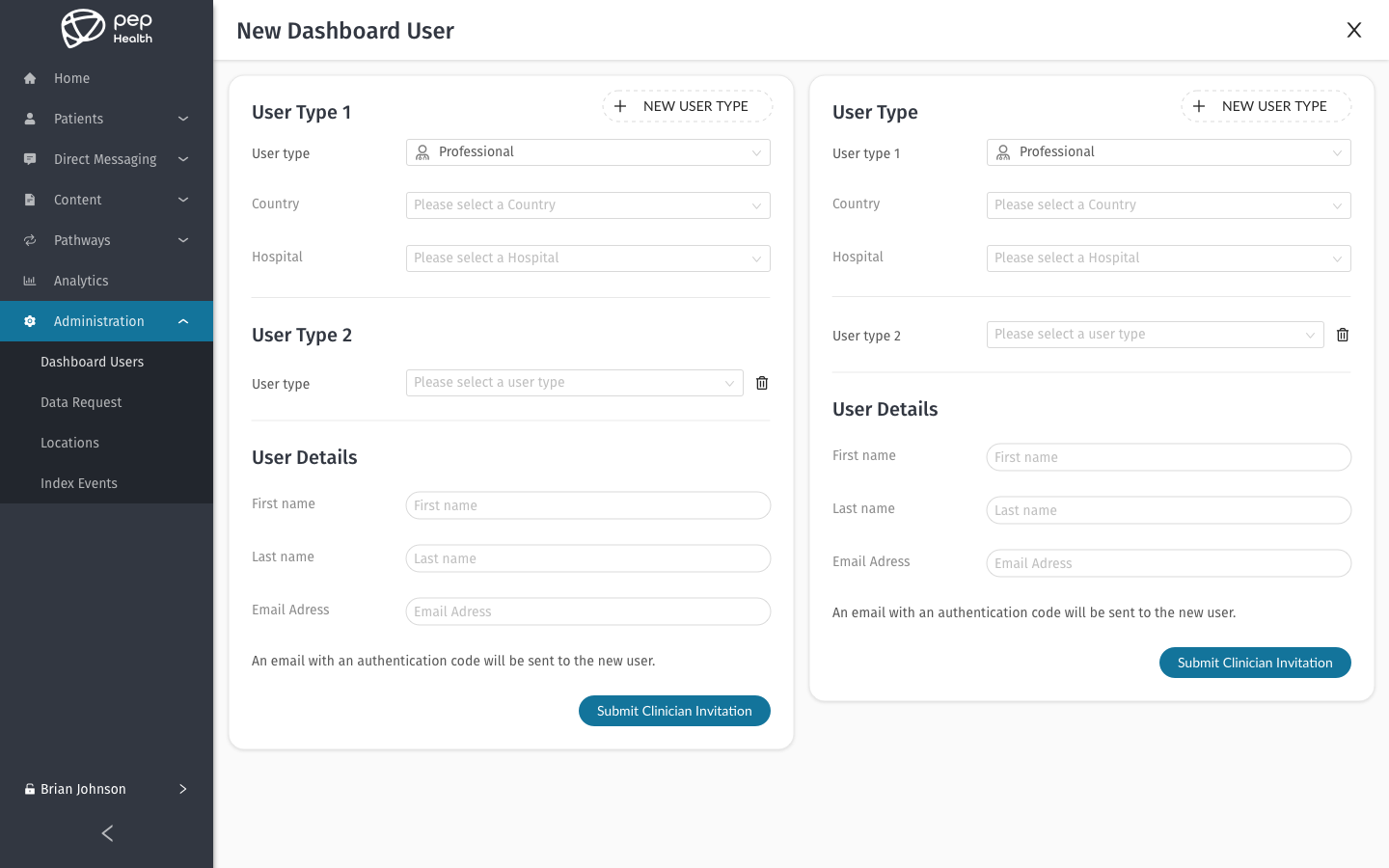 Administration
Manage your organisation and department dashboards with permissions-based user access and privileges.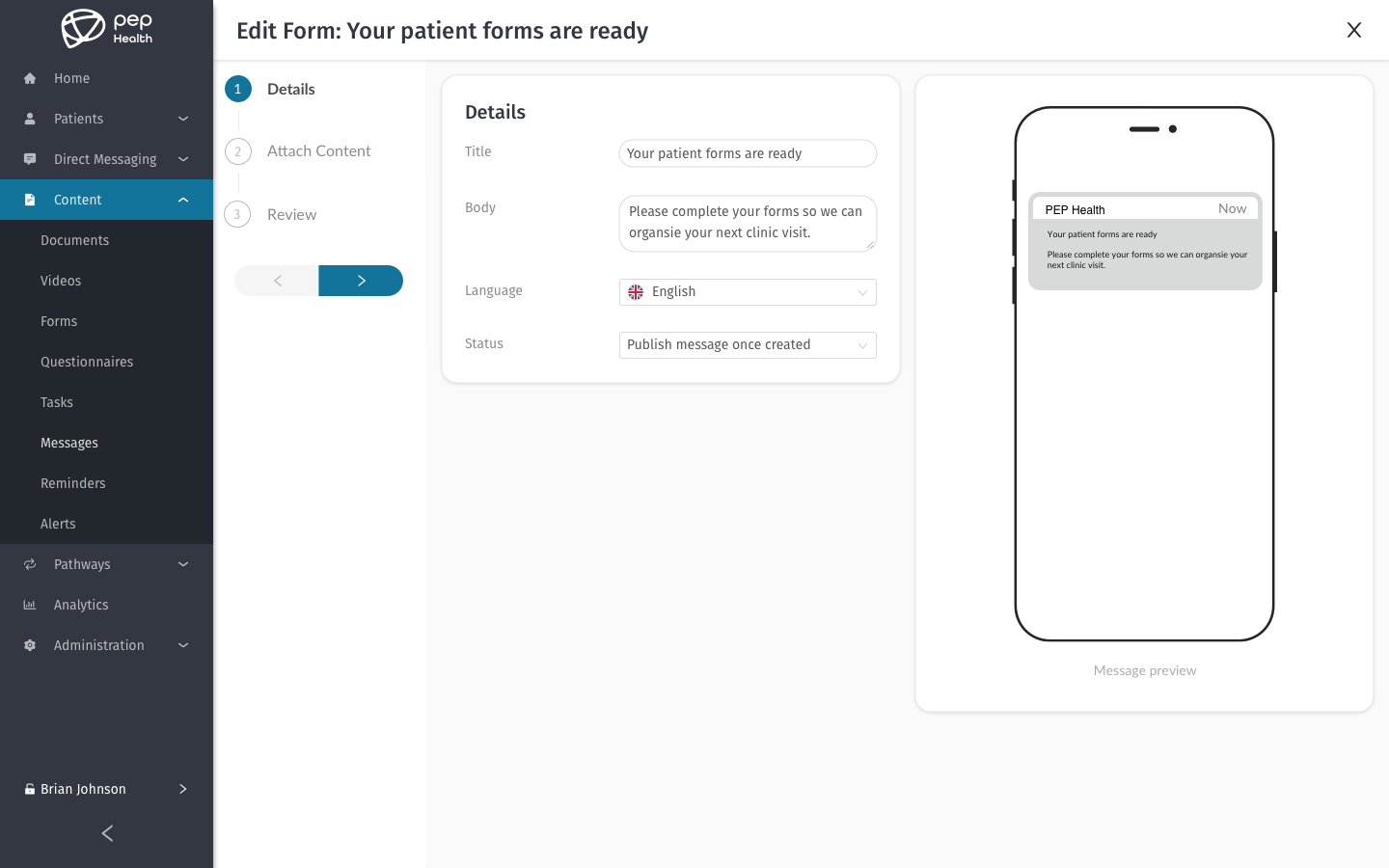 Notifications
Send sequenced and clinically aligned notifications to patients with personalised messaging.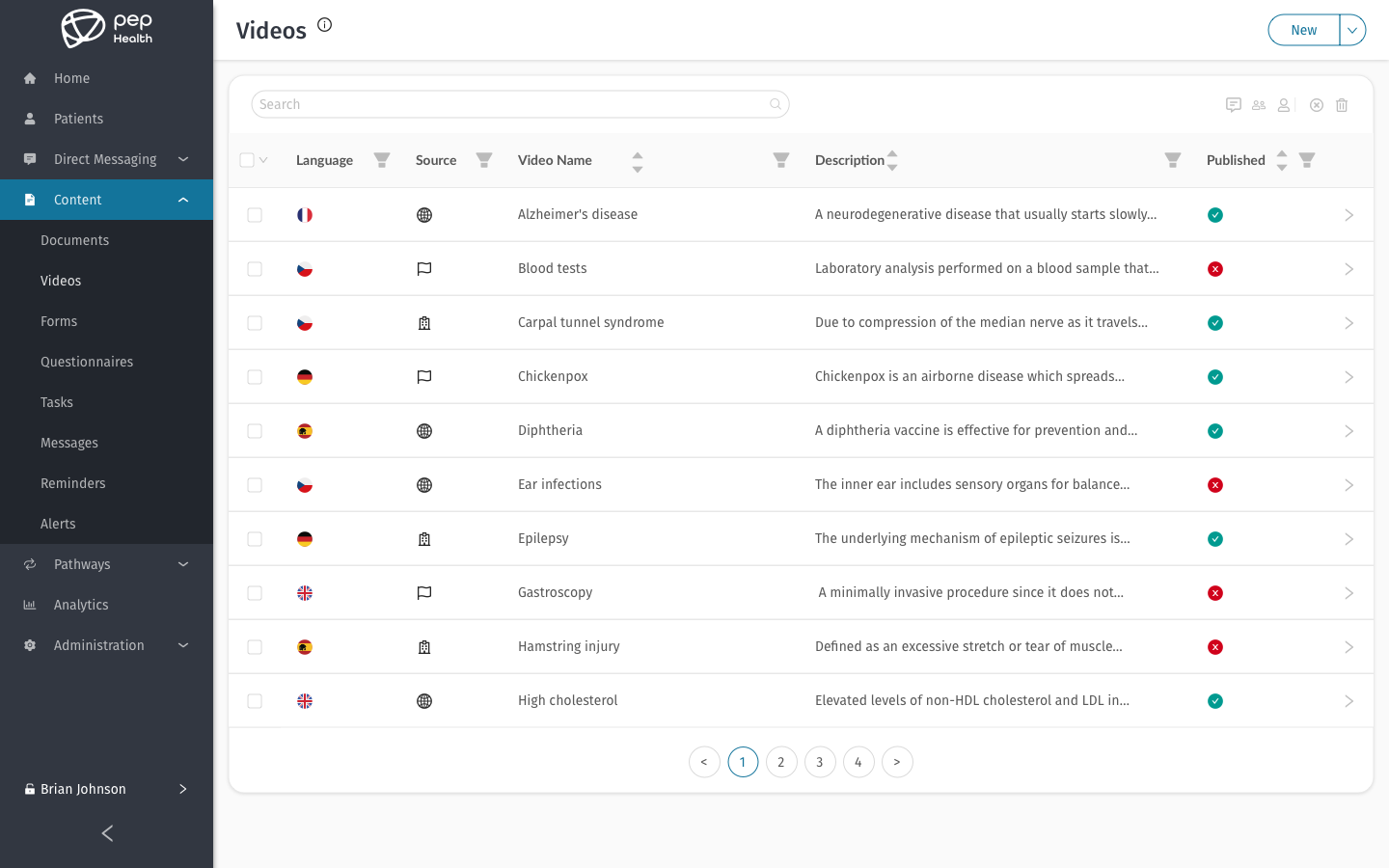 Content Library
Provide patients with information that is aligned with best practice. Manage a library of documents, videos, messages and forms.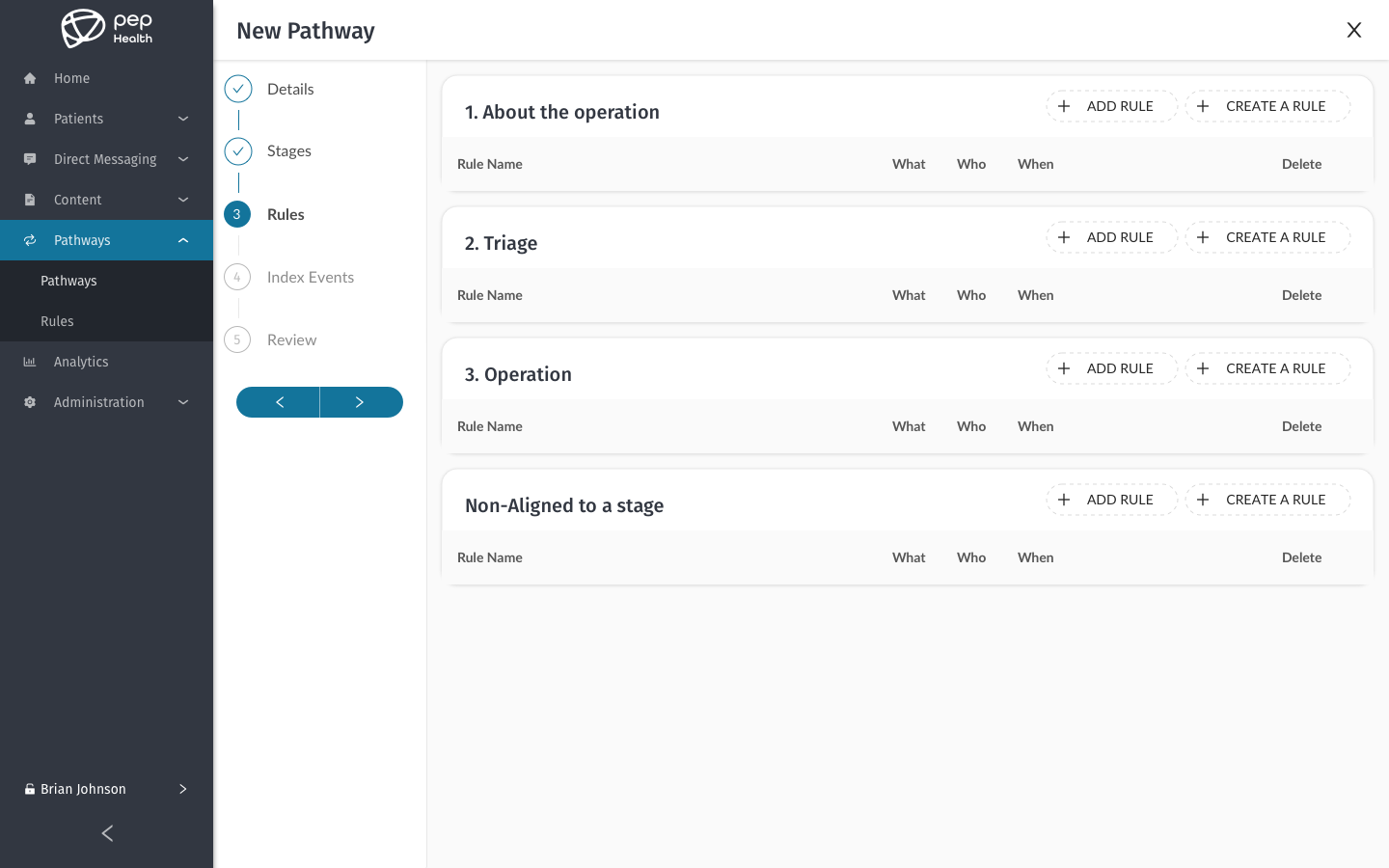 Pathways Creator
Create and manage clinical pathways for patients that align specifically to the processes and workflows of your organisation, departments or healthcare teams.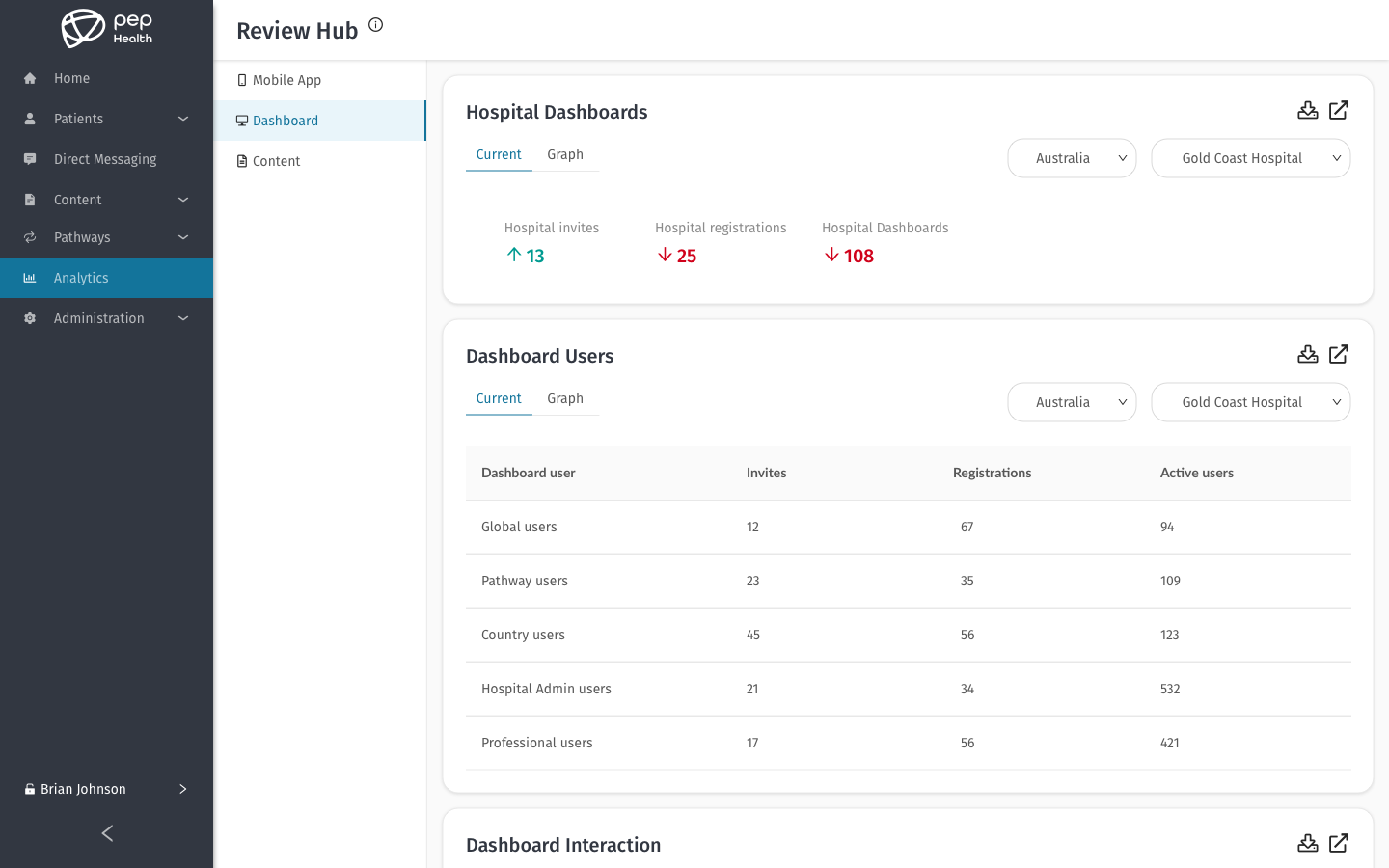 Analytics
View aggregate, de-identified data on segmented patient groups, including engagement analytics.
Improve Patient Communications
Digitise and automate communication processes and workflows throughout your organisation.
Improve efficiency through clinically-aligned digital communication pathways

Take advantage of off-the-shelf best practice pathways, documents, videos and forms

Align communications to configurable triggers based on a patient's stage in their health journey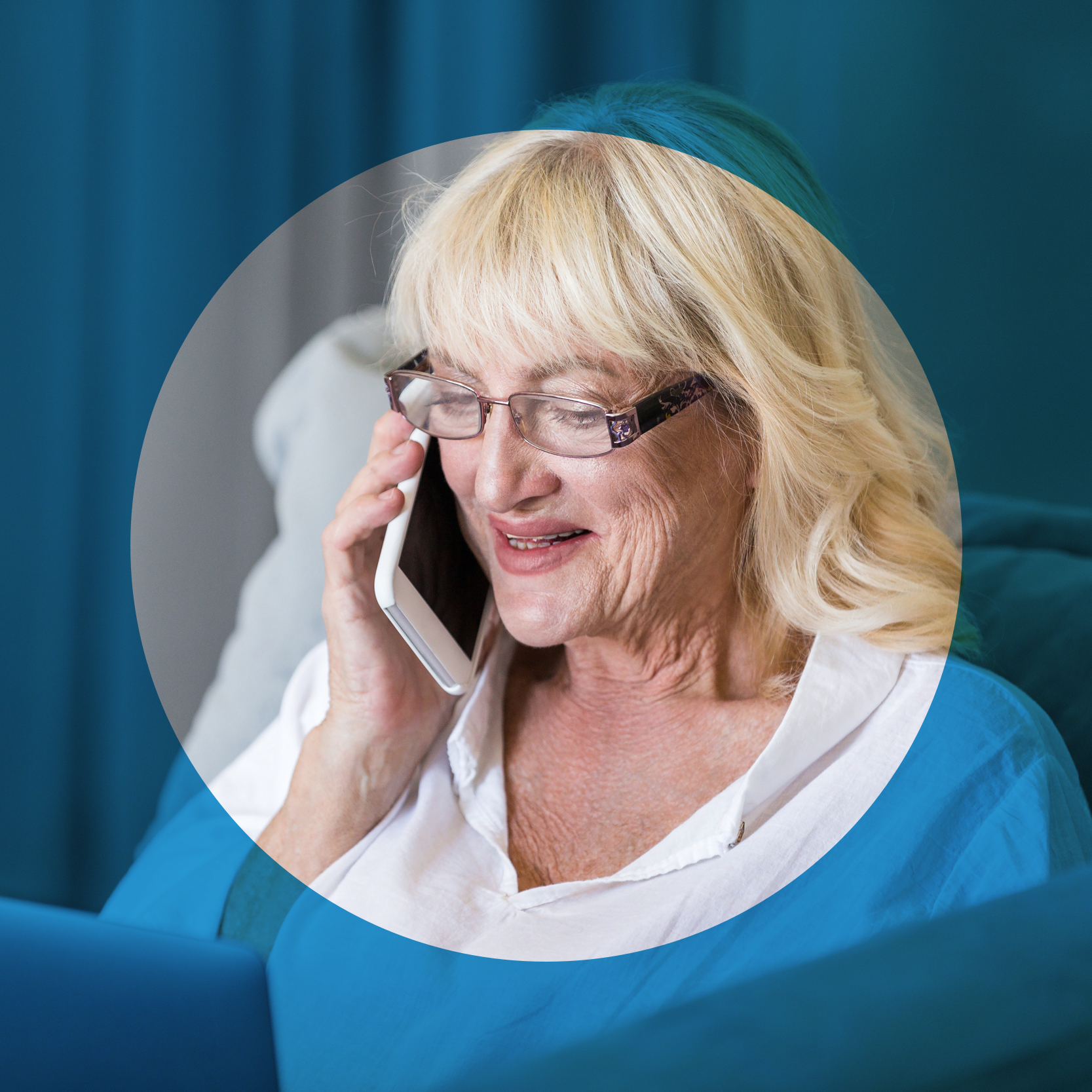 Reduce Communication Breakdowns
Drastically improve patient engagement and education with personalised communications.
Reduce litigation risk by providing patients with easy and convenient access to important procedure and intervention information, including informed consent

Provide care teams with actionable information and a holistic view of their patient population, conditions and progress

Improve patient compliance and adherence to treatment plans with personalised notifications, medication and appointment reminders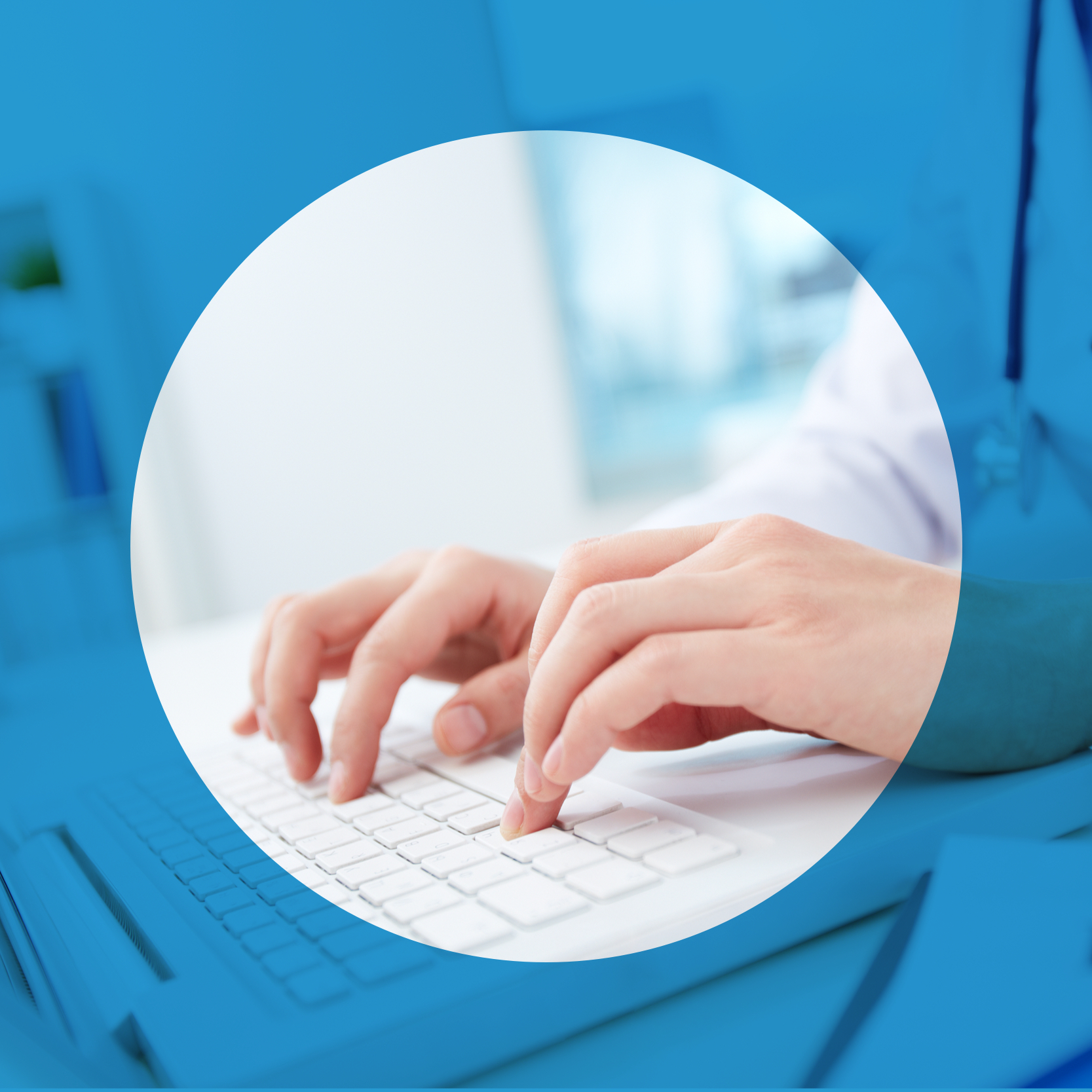 Ensure Security and Compliance
Provide a secure and compliant platform for delivering communications and gathering feedback.
Assign dashboard permission types based on your organisational structure and control who has access to patient information and data

Patient data can be aggregated, de-identified and segmented by patient groups

Maintain a high level of privacy and security with a GDPR compliant platform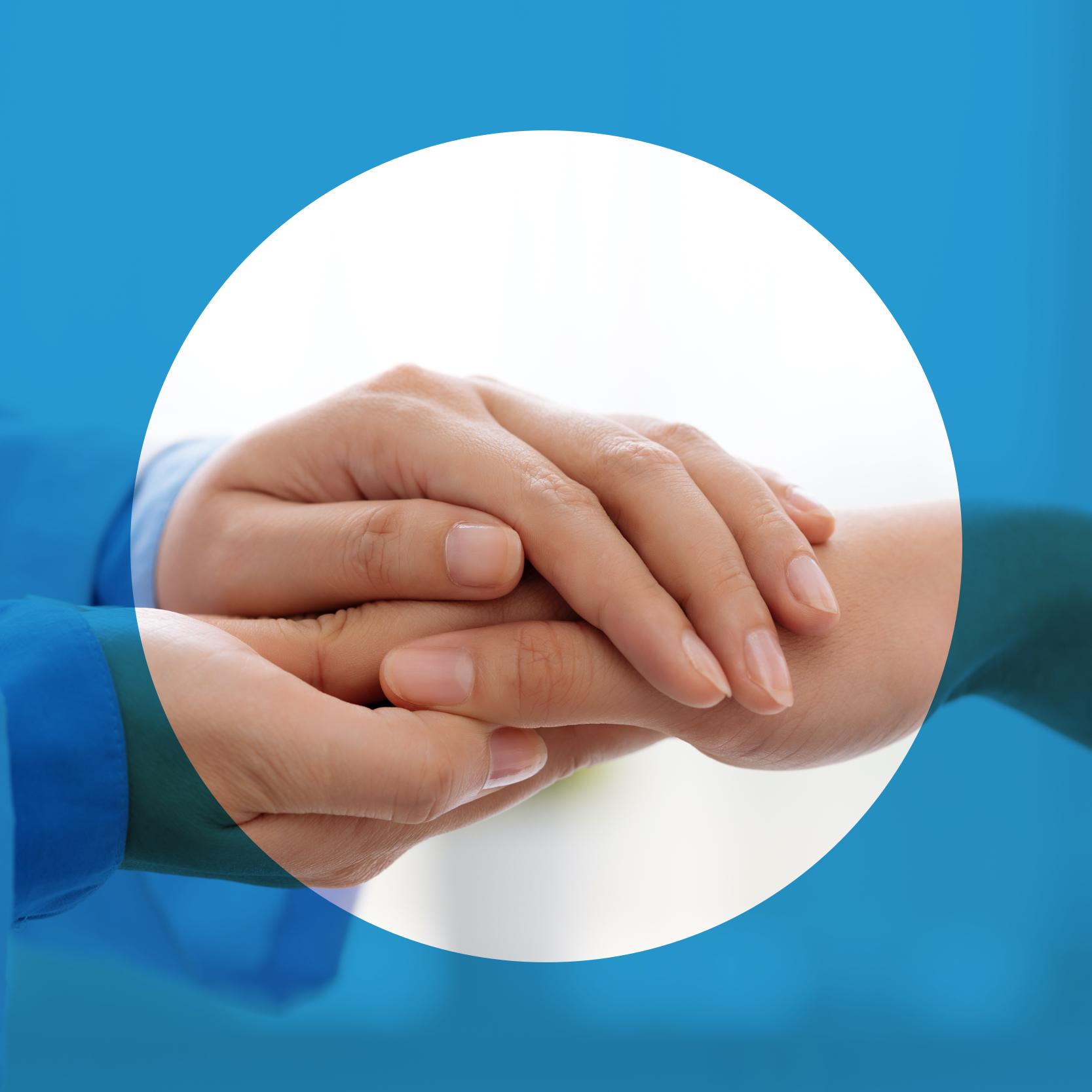 Looking to improve patient engagement across the care continuum?
Get in touch today!
Fill in and submit your details and we will contact you as soon as possible.
Promotion & Training Resources
Digital and print resources to promote and educate the use of PEP Health within your Health Organisation.
View Resources